the best haircut since Ronaldo in the '98 World Cup final
anthony Laban London barbers
At Laban London we combine traditional barbershop skills with cutting edge style. That means quality haircuts, proper wet shaves and dapper grooming, all in a relaxing atmosphere on Bellevue Road. We're just a couple of doors down from The Althorp, so you can pop in for a fresh haircut and stick around for a refreshing beer! 
Appointment's aren't necessary, but it's smart to book ahead.
the full service for the descerning gentleman

We're a dab-hand at tailored cuts and modern styling.

Nothing beats the feeling of our traditional wet shaves.

Beard shaping and grooming
We'll pamper your face-fur to keep you looking dapper.
CLIPPERS – ONE GRADE
CLIPPERS – SKIN FADE
BEARD TRIM
BEARD TRIM / RAZOR
FOIL SHAVE
KIDS UNDER 9's
KIDS UNDER 13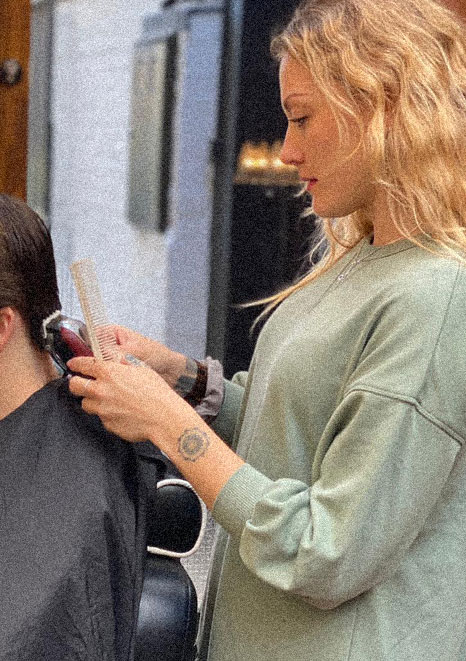 Grace
She is super friendly and loves a good natter and really loves her job. Curls, waves ,beards ( the bigger the better ) & fades are her faves. She is always up for a good laugh so pop in for a great haircut and a good chat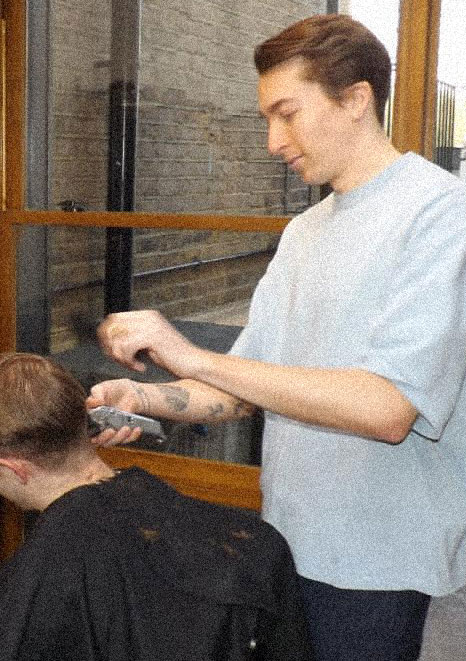 Teddy
Introducing Teddy our happy clappy barber dancing smiling barber who is always smiling usually dancing or singing & who loves his job. Teddy is a perfectionist and this really shows in his work. We call him the king of the fades and they are on fire. If you pass and can hear Luther Vandross or Sister Sledge then Teddy's working so drop in for a haircut and a boogie.
Tanya
Tanya loves her job and it shows in her dedication to cut hair like a boss. She is always smiling ( in the pic she's in full concentration mode. She is super friendly and loves a good laugh. You may see her walking her 2 french bulldogs around Clapham so come say hello.
Anita
Anita is the newest barber to join the team and she is so talented and dedicated to giving the best haircuts and really enjoying her day. Really happy and friendly and a great asset. She is a real local and great fun to know. Book in with her for a great haircut.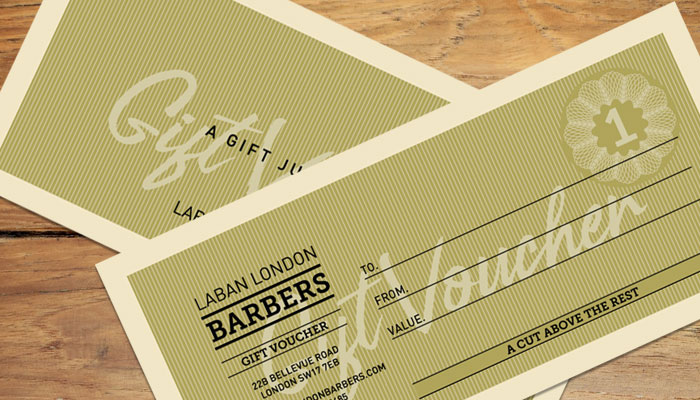 Gift Vouchers available now!
You can now purchase our fantastic gift vouchers online.
The perfect gift for the discerning man.
LABAN LONDON BARBERS
22B BELLEVUE ROAD . LONDON SW17 7EB
T: 020 3137 5485  E: info@labanlondonbarbers